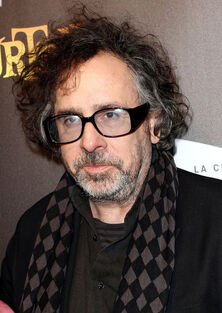 Tim Burton
is the man that sparked the idea for
The Nightmare Before Christmas
. He is a well known director, producer, writer, animator, artist and generally speaking, a creative genius.
A Short Bio
Edit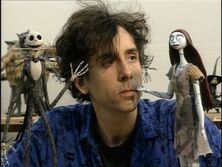 Tim Burton was born in 1958, Burbank California. He began making movies at a young age. After high school Burton attended the California Institute of Arts to study character animation. After he graduated from the Institute in 1979, he was hired by Disney. Later in his career his old
Poem
caught the attention of Disney and they decided to make
The Nightmare Before Christmas
, which was directed by
Henry Selick
, a good friend of
Tim Burton
.
Films Directed and/or Produced
Edit
(1971) The Island of Doctor Agor
(1982) Vincent
(1984) Frankenweenie
(1985) Pee-Wee's Big Adventure
(1988) Beetlejuice
(1989) Batman
(1990) Edward Scissorhands
(1992) Batman Returns
(1994) Ed Wood
(1995) Batman Forever
(1996) Mars Attacks
(1999) Sleepy Hollow
(2001) Planet of the Apes
(2003) Big Fish
(2005) Charlie and the Chocolate Factory
(2005) Corpse Bride
(2007) Sweeney Todd: the Demon Barber of Fleet Street
(2010) Alice in Wonderland
(2012) Dark Shadows
(2012) Abraham Lincoln: The Vampire Hunter
(2012) Frankenweenie (Animated Feature Film)
His Poem was the birth of Jack Skellington.
Jack Skellington by Tim Burton