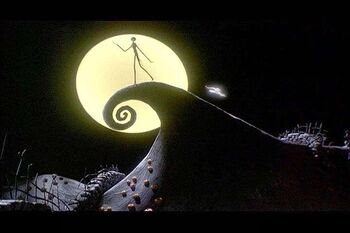 For other uses see Spiral Hill (disambiguation).
The Spiral Hill is an iconic landmark incorporated in The Nightmare Before Christmas canon. It stands in the Graveyard of Halloween Town and leads into the Hinterlands. It's form resembles a small rising outcrop of land which curls inwards into a spiral at the pinnacle. When individuals approach seeking access to the Hinterlands, it unfolds to serve as a bridge to that area, facilitating traversing of the Pumpkin Field.
It features in the Halloween Town world in the Playstation 2 games Kingdom Hearts and Kingdom Hearts II, where it is referred to as Curly Hill.
The unspiraling motion is actually mechanical as Tim Burton wanted nothing in Halloween Town to be magical.
Ad blocker interference detected!
Wikia is a free-to-use site that makes money from advertising. We have a modified experience for viewers using ad blockers

Wikia is not accessible if you've made further modifications. Remove the custom ad blocker rule(s) and the page will load as expected.