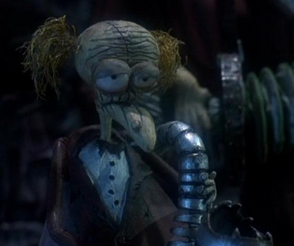 James the Saxophone Player is a citizen of Halloween Town, and a member of the town band. He plays the saxophone. In the beginning of the movie he tells Jack, "Nice work, bone-daddy", complementing him on another successful Halloween. He also tells the Mayor that Jack hasn't been home all night after he unsuccessfully tries to rouse Jack from his house. During Making Christmas, the Harlequin Demon uses him as a mannequein to make a rat into a hat. He is voiced in the movie by Greg Proops.
Ad blocker interference detected!
Wikia is a free-to-use site that makes money from advertising. We have a modified experience for viewers using ad blockers

Wikia is not accessible if you've made further modifications. Remove the custom ad blocker rule(s) and the page will load as expected.