The Finale is the final song of the movie, and is sung when Jack returns to Halloween Town.
Chorus:
La la, la la, la la la la, la la, la la, la la la la,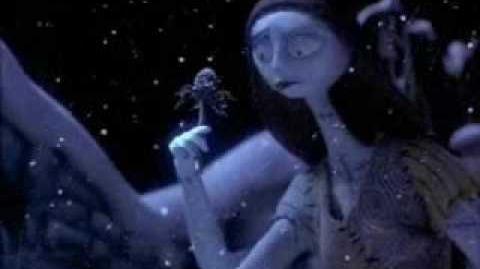 Jack's OK, and he's back! Oh, yay!
Corpse Kid and Chorus:
He's all right!
Mayor and Chorus:
Let's shout, make a fuss
Scream it out, wheee!
Chorus:
Jack is back now, everyone sing
In our town of Halloween
Corpse Kid:
What's this?
Cyclops:
What's this?
Harlequin Demon:
I haven't got a clue
Mr. Hyde:
What's this?
Clown with the Tear-Away Face:
Why it's completely new!
Off-Screen Voice:
What's this?
Wolfman:
Must be a Christmas thing
Off-Screen Voice
What's this?
Mayor
It's really very strange
Chorus
This is Halloween
Halloween! Halloween! Halloween!
What's this?
What's this?
(Repeat)
Jack:
My dearest friend, if you don't mind
I'd like to join you by your side
Where we can gaze into the stars
Jack and Sally:
And sit together, now and forever
For it is plain as anyone can see
We're simply meant to be
Ad blocker interference detected!
Wikia is a free-to-use site that makes money from advertising. We have a modified experience for viewers using ad blockers

Wikia is not accessible if you've made further modifications. Remove the custom ad blocker rule(s) and the page will load as expected.