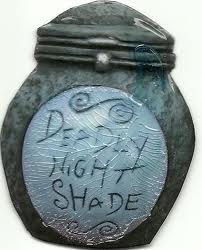 Deadly nightshade, also called belladonna, is the toxic herb used by Sally to poison Doctor Finklestein several times, in order to escape his lab. "I'm restless, I cant help It" - Sally. The plant itself is picked by Sally in the cemetery after she listens to Jack's Lament. It is seen growing in a little herb patch beside Witch Hazel.
Ad blocker interference detected!
Wikia is a free-to-use site that makes money from advertising. We have a modified experience for viewers using ad blockers

Wikia is not accessible if you've made further modifications. Remove the custom ad blocker rule(s) and the page will load as expected.