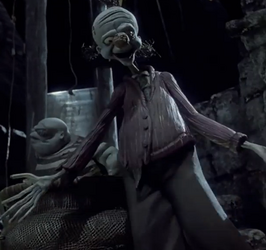 Corpse Dad is a citizen of Halloween Town. He is a corpse and he is Corpse Mom's husband, and Corpse Kid's father.
Appearance
Edit
Ned has old grey skin and yellow eyes. He has a large, red nose, no teeth and is semi-bald. He wears a buttoned sweater with baggy pants.
Personality
Edit
Despite his physical appearance, he is very friendly, especially with his young son.
Role in Movie
Edit
His name was revealed to be Ned through the Trading Card Game.
Ad blocker interference detected!
Wikia is a free-to-use site that makes money from advertising. We have a modified experience for viewers using ad blockers

Wikia is not accessible if you've made further modifications. Remove the custom ad blocker rule(s) and the page will load as expected.