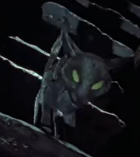 The black cat is a minor animal character from Halloween Town. He\she appeared during This is Halloween and Sally's Song. There is a possibility that he\she might be Sally's pet.
The cat looks very similar to the one seen in Tim Burton's first stop-motion film, Vincent. She/he is the only cat in this film. (Excluding background cats)
Ad blocker interference detected!
Wikia is a free-to-use site that makes money from advertising. We have a modified experience for viewers using ad blockers

Wikia is not accessible if you've made further modifications. Remove the custom ad blocker rule(s) and the page will load as expected.